Clearly the most visible feature of Brad Wursten Airshows is the aircraft. Striking paint schemes, and state of the art equipment make these some of the best known airplanes on the airshow circuit. Whether tearing up the skies in a high speed performance or taking you for the ride of a lifetime.
MXS-R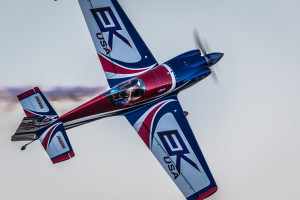 The MXS was designed to set a new standard in unlimited performance aircraft in a somewhat aging aerobatic market place. It is a single seat, carbon fiber aircraft utilizing advanced, state-of-the-art composite materials, sophisticated development tools, novel processes and world class engineering skills blended to create a unique combination of structural performance, quality and durability. With immediate presence both dynamically and statically, the MXS clearly demonstrates its purpose and intent. This presence and aggression is communicated through technology on show.
Combined with technically justifiable design features the MXS is a showcase of visible engineering detail.
PERFORMANCE

MAX. SPEED (VNE)
300 KTS +
STALL SPEED
58 KTS
TOP SPEED LEVEL FLIGHT
226 KTS
CRUISE SPEED
200 KTS
ROLL RATE
480 degrees/sec
RANGE
750 nm
VERTICAL PENETRATION
3500 ft
ENGINE
Lycoming AEIO540 with Lycon Performance Mods
Extra 330LX
The Extra 330lx is a fantastic ride platform for Brad to demonstrate the capabilities of aerobatics in this incredible aircraft to a VIP or a passenger.
Used at airshows to give press rides, VIP rides, Elevate Your Life contest winners the ride of a lifetime.